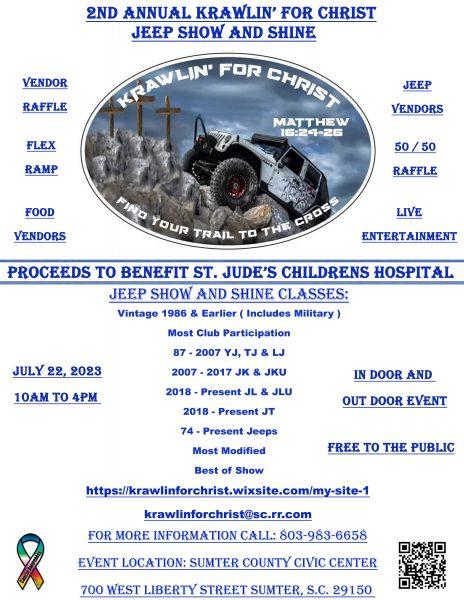 KRAWLIN' FOR CHRIST JEEP SHOW AND SHINE
2nd Annual KRAWLIN' For CHRIST Jeep Show and Shine
Come join us for a fun filled day at our 2nd annual KRAWLIN' For CHRIST Jeep Show and Shine!
We will have Jeep Vendors, a Flex Ramp, Live Music, Food Vendors and our Jeep Show and Shine Competition. This event is an indoor and outdoor event and free to the public.
To find out more go to https://Krawlinforchrist.wixsite.com/my-site-1
Pre-register online or enter the competition at the registration booth. Show and shine registration is 8:30am to 11:00am.
We will have Raffle's for some amazing prizes and a 50/50 Raffle! If you know someone who has a Jeep please share! For more information, please contact Minnie Sue Ardis or Ashley Ardis. We look forward to having you join us for this awesome event!
We will be having live music, jeep vendors, food vendors, flex ramp, car crawling. This is an indoor and outdoor event. Our show and shine registration starts at 8:00 am. The event opens to the public at 10:00 am and goes until 4:00 pm.
All proceeds will go to the St. Jude's Childrens hospital.
For more information go to 2nd Annual KRAWLIN' For CHRIST Jeep Show and Shine | Facebook